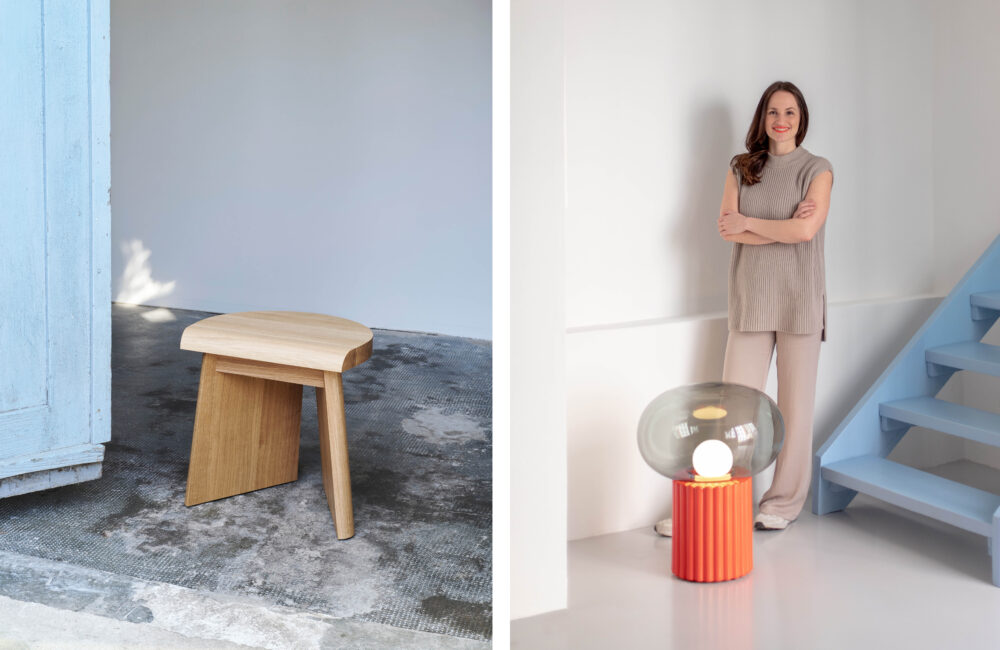 12.04.2021
FAVIUS PRESENTS NOVELTIES BY CHRISTIAN HAAS AND HANNE WILLMANN
Following the successful international launch of its collection of high-quality and characterful furniture and accessories in 2020, the German design brand favius launches two impressive new products in April: The sculptural stool PORTAO made of solid oak by Christian Haas and the floor lamp FUNGI made of hand-blown glass with an artistic ceramic base by Hanne Willmann.

Both novelties underline the philosophy of the design brand favius: the devotion to traditional craftsmanship as well as a design language that moves between art and architecture.
The stool PORTAO by Christian Haas
PORTAO by Christian Haas is a stool with a distinct sculptural appearance. Its nuanced design centers on the shape, making the stool an object with a strong character. The monolithic appearance of the piece is underlined by the use of solid oak processed to a high standard. The tapered stool legs as well as the seat are significantly rounded on the front sides, giving a pleasant feeling of softness and offering comfortable seating.

PORTAO convinces with its presence in a room, it can also be used as a side table and is available in oiled or black stained oak.
The floor light FUNGI by Hanne Willmann
With the floor light FUNGI, designer Hanne Willmann has created an impressive lighting object. In her design, she combines the beauty of hand-blown glass with handmade ceramics and stages them in a new and striking form. The imposing lampshade attests to the extraordinary skill of the glassmaker while its steel grey transparency reveals the refined ceramic base. The designer has given this intricately designed luminaire base an unmistakable, wave-like appearance. The dimmable light source is embedded in it and thus provides for individual lighting moods.

The elegant FUNGI reflects the unique style of Hanne Willmann and is available in three ceramic colours: warm beige, orange red and black.