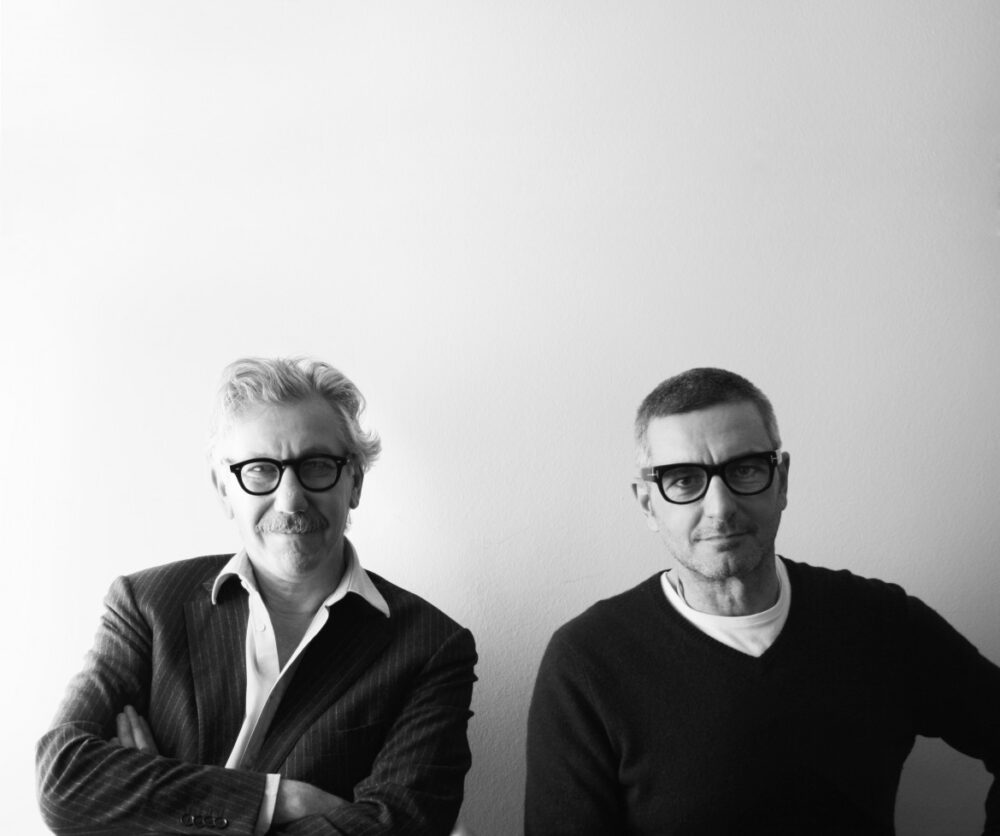 10.01.2017
Q&A WITH DESIGN STUDIO CHIARAMONTE MARIN ON THE KNOT COLLECTION FOR BROKIS
In the run-up to imm Cologne 2017 we were able to talk to Alfredo Chiaramonte and Marco Marin, partners of the homonymous design studio and the designers of the pendant light KNOT, on how Venice has influenced their latest work for Brokis, Italian design and the beauty of traditional glass blowing.
What were the key ideas behind the design of the KNOT collection for Brokis?
Alfredo: Every time we saw the collections of Brokis displayed at various fairs, we were impressed by their simply elegant and sophisticated style, finding an affinity with our own way to design. For this reason, we decided to propose our ideas to Brokis.
Marco: In Venice, where we live, riding a gondola is a historical, romantic way to experience the city. The Gondola still plays a major role in everyday life. Every day we see the ropes being used to tie boats in the canals. This inspired us with the idea to connect rope to glass, creating some sort of interpenetration between two so very different materials: the one rough, the other one smooth.
What type of spaces do you see this piece of lighting being most suited for?
Alfredo: The KNOT lights are very versatile objects. They are suited for both: the domestic and private use as well as for open and public spaces. Our idea was to create a light that could be a statement as a single piece or that could be arranged in a group as an installation for example in bigger public spaces.
What fascinated you about designing a handblown glass light as well as a light in general?
Marco: Handblown glass to us is certainly the most fascinating material through which we can bring our ideas to life. We have been designing handblown glass objects and lights for a very long time now, but every time we enter a glass works with its hot furnaces, we are still fascinated by the beauty of the traditional techniques and the stunning skills of the craftspeople, heating and blowing the glass in such an artistic way.
Alfredo: In addition, it is overwhelming and absolutely fascinating to see the team of craftsmen working together precisely to the second. It is outstanding teamwork!
Is the process of designing a handblown glass object different from designing other objects? What were the challenges?
Alfredo: To us the creative process of designing an object is always the same, no matter if it is a light, a chair or a sofa. Our starting point is always the knowledge of material processing techniques which we will use. In our opinion it is fundamental to experiment, in order to create new ideas.
Marco: And we always try to apply the experience gained in completely different areas of product design.
What can an Italian design duo contribute to a Czech design company?
Alfredo: (Laughs) Well, we believe that the Italian design, recognised throughout the world, can be an enrichment and add value to the product. Both, the Italian glass-making tradition as well as the Czech have a long history.
Marco: The decision of Brokis to cooperate with a foreign design studio to us also shows the will to open up to new and different approaches to design, to work with products in a more globalized way.
What keeps you inspired in your work? Where do you draw your inspiration from?
Marco: The process mostly happens over a long period of time, in a subliminal way. The inspiration comes from everything that surrounds us in everyday life, at work or while traveling. As designers we walk through life with open eyes and always have our senses focused. From a seemingly insignificant detail sometimes can be born an idea.